CHECK OUT THESE NEW PROMOS AT SIDE PIECE PIZZA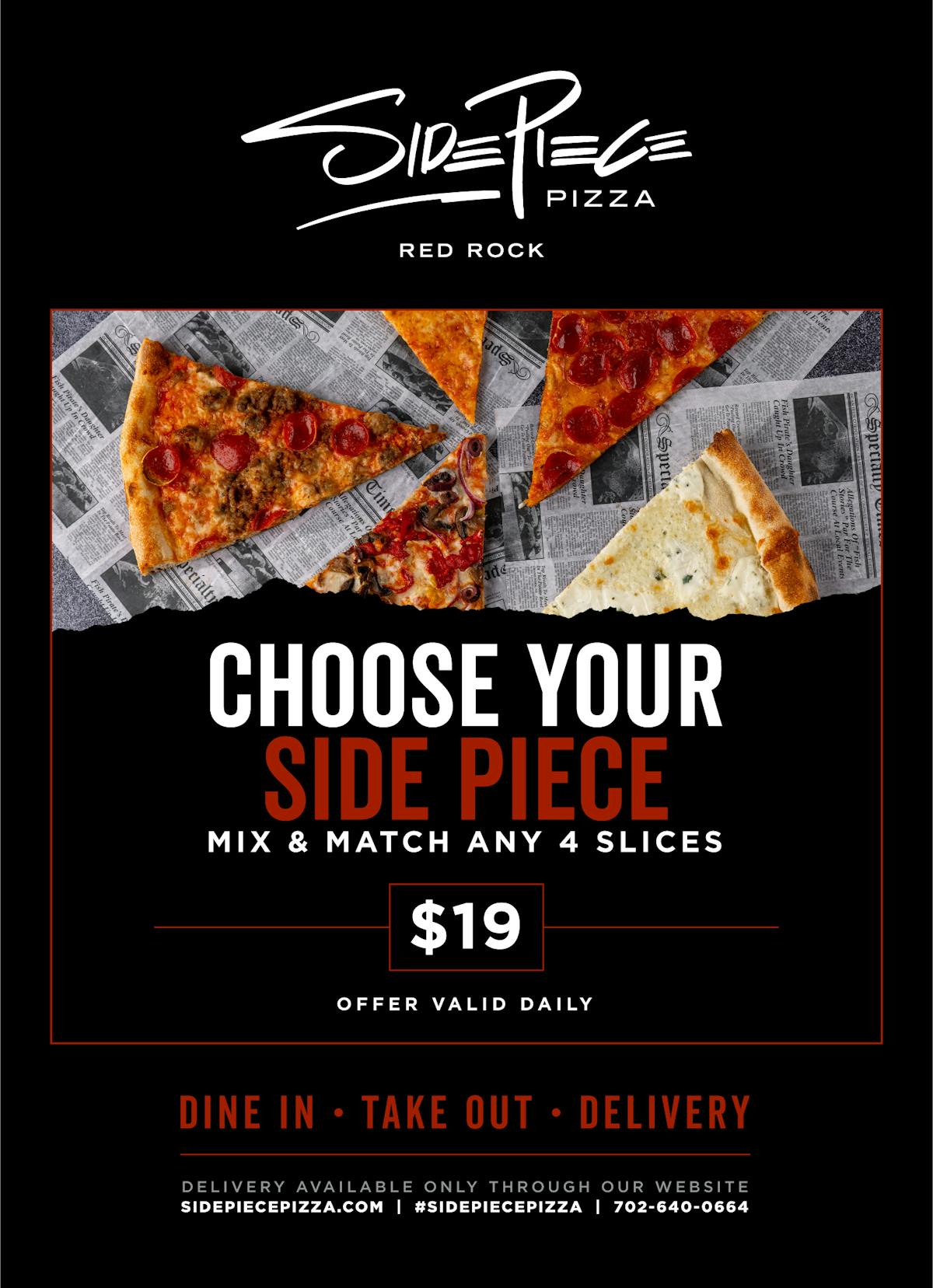 YOUR FAVORITE PLACE FOR A SLICE IN SUMMERLIN JUST GOT EVEN NICER
Side Piece Pizza has always been one of the best places to grab a slice in Summerlin, and they've always made it extra nice to do so with their numerous promotions. They have their daily lunch special, Side Piece Rewards to earn free pizza, fun specialty pizzas like the Bloody Mary pizza, and more. Just when it seems too good to be true, they went and did it again: check out these new promos at Side Piece Pizza!
EIGHT DAYS A WEEK
Sometimes it's too hard to choose between your main boo and your side piece, which is why Side Piece Pizza now has a special where you can choose any four different pieces of pizza for only $19, Sunday through Monday. This is perfect for when you personally want some variety, or if you can't come to a compromise on which type of pie to buy with the apple of your eye. Take a look at all of Side Piece Pizza's options here. For those of you who like to grab a slice before the end of the night, Side Piece now has the Last Call Special: 1/2 off slices during the last hour they're open Sunday-Monday. Nothing makes Side Piece Pizza taste even better than when you get it with a steal of a deal.
WEDNESDAY AND SUNDAY, BABY
Don't forget about some of the other new*ish* promos at Side Piece Pizza either. Every Wednesday you can get a 22" cheese pie for only $13, all day!. There's also the incredible Sunday Fan Feast where for only $45 you'll get two 14'' pizzas with a choice of one topping; 2 large salads–either the Tuscan with mixed greens, blue cheese toasted walnuts, and balsamic vinaigrette, or The Caesar with crisp lettuce, toast croutons, and lemon pepper caesar dressing; and 2 orders of garlic knots with marinara dipping sauce. Keep this last one in mind as the Super Bowl approaches–it's pretty much what Side Piece Pizza has been training you for!
KEEP DREAMING
Last but not least, don't forget about Side Piece Pizza's Dream Pizza contest! You can still enter the contest to have Side Piece create the pizza of you've dreamed up with another lucky two contestants to possibly win a month of free pizza! All you have to do is go to Side Piece Pizza's Instagram and comment on this post with your out-of-this-world pizza recipe, then just keep an eye out for Side Piece Pizza to announce the three finalists. This surreal situation is just one of many of the new promos at Side Piece Pizza that make it the best pizza place in Summerlin!