SIDE PIECE'S BUILD YOUR OWN FAMILY COMBO IS FOR PARENTS EVERYWHERE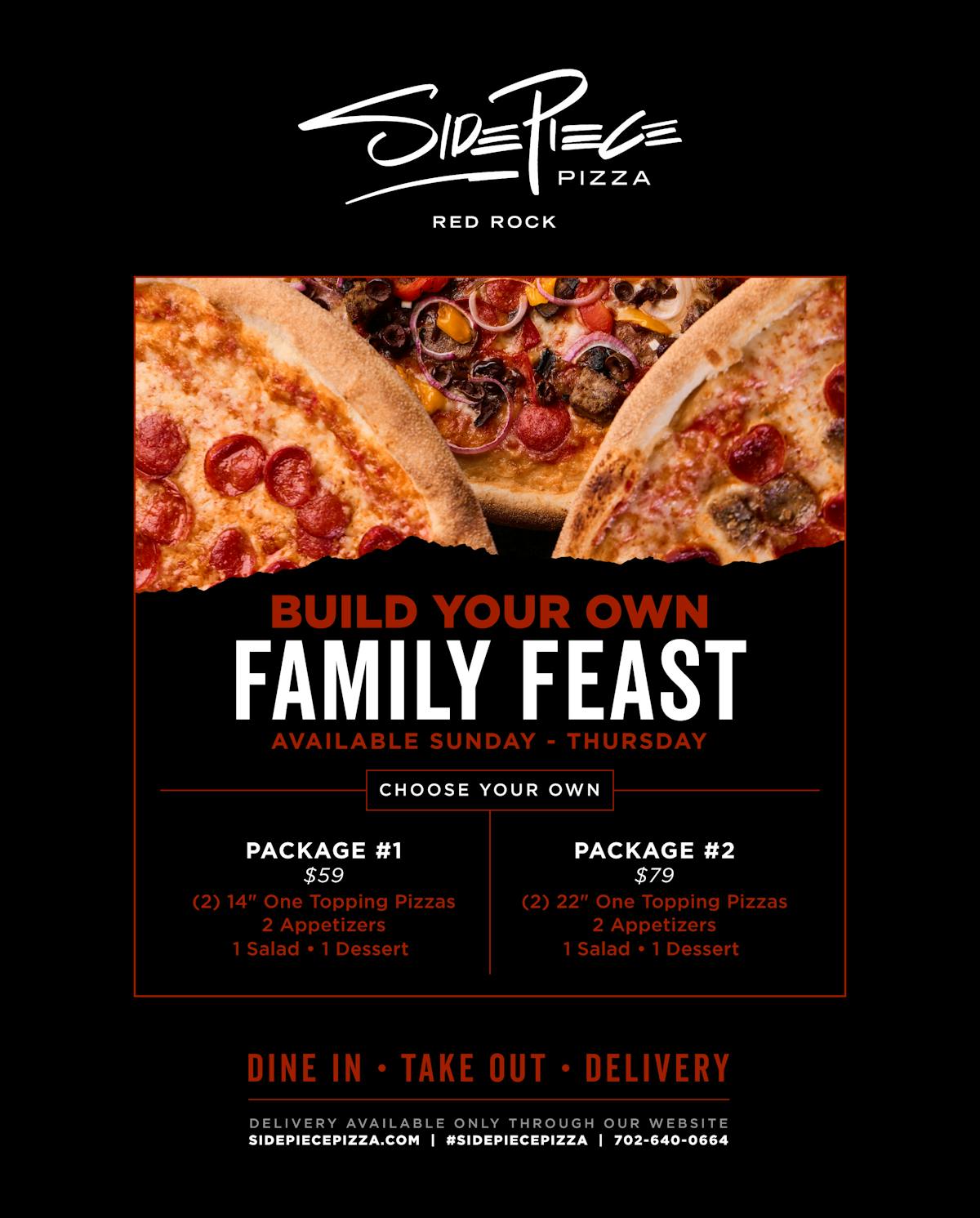 DO IT RIGHT FOR FAMILY NIGHT WITH SIDE PIECE PIZZA
Pizza is great for many reasons other than just being delicious. It is also simple, easy, and convenient. Another great quality about pizza is that it's a crowd-pleaser. Not liking pizza is one of the weirdest qualities a person can have. If you're looking for a quick, easy meal everyone in the fam will love, then order Side Piece's Build Your Own Family Combo!
LETTUCE BE HONEST
Moms are tired. It doesn't matter how many children they have or how old those kids are, motherhood is a non-discriminatory exhauster. Dads are also tired, mainly from getting yelled at for not being *as* tired as moms. With all that parenting entails, meal prepping is just not one of the more feasible feats. If you want an accurate and hilarious account of this, check out @bigtimeadulting's post on Instagram. In it, she gives her opinion on influencers who post "easy, three-ingredient meals" where one of the ingredients is always lettuce. She quips you can "immediately tell they don't have children because lettuce could never make someone with kids that happy. We need the real thing." She thing finishes her post by suggesting that those influencers try getting drunk and ordering a pizza because "that thing also has only three ingredients and it is way better." As Lizzo says, Truth Hurts. But pizza makes it better.
FAMILY FEAST YOUR EYES ON THIS
If you're looking to save some money and some sanity while simultaneously fueling your fam, then Side Piece Pizza's new special is the perfect solution. It's available Sunday through Thursday for dine-in, carry-out, or delivery. So whether you're in the neighborhood or need Side Piece to come to yours, you can have your pizza and eat it too. Here are the two delicious options to choose from:
PACKAGE #1
Two 14-inch, one-topping pizzas; two appetizers, one salad, and one dessert for $59
PACKAGE # 2
Two 22-inch, one-topping pizzas; two appetizers, one salad, and one dessert for $79
Don't forget that Side Piece Pizza will bring your family's food right to your door as they have the best pizza delivery in Summerlin. This is a win-win-win from Side Piece, so go ahead and order here!